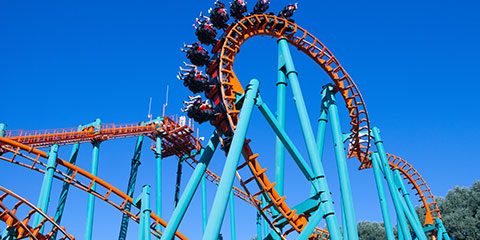 WFH Post Pandemic – What It Will Look Like. What You'll Need.
Jun 10, 2021
The past 18 months or so have been a roller coaster ride – the kind where you get hit with the fall out from the person who pukes every time there's a dip.
The good news: The rest of the amusement park is starting to open again for business.
The bad news: Employers are now scrambling in a new direction as they figure out how to get workers back into the park, and how to man all the rides.
Okay. Enough of the amusement park analogies.
What will working look like post-pandemic? And what can you do to prepare?
For 50% of firms, WFH is here to stay – in a hybrid form
Multiple studies have been completed around the world, looking at how companies will be structured post-pandemic. Across the globe, executives have been huddling in zoom rooms trying to determine the best path forward. No matter whose research you read, or which leaders you consult, one thing seems clear: WFH (Working From Home) is here to stay.
Although only 50% of firms can truly function with remote workers, even hospitals, factories, retailers and other types of organisations that typically require all staff to be on location, are exploring ways in which some workers can continue to work remotely.
Nicholas Bloom, a Stanford professor who has been researching WFH since 2004, and surveying 4000 companies a month for years, spoke about what's on the horizon earlier this month. His views echo those of the myriad articles being published on the matter at the moment.
The highlights from Bloom's presentation, participation in a CEO Roundtable, and the perusal of +30 articles on the topic:
Most firms will introduce a hybrid model, electing to have employees work 2 -3 days a week from home, and requiring they be in the office 2- 3 days a week. Alternating weeks are being considered by some firms.
Many consider a good model to be three days in the office, for meetings and collaboration, and two days at home, where an employee can focus on written tasks that require uninterrupted concentration.
Employees may resist returning to the physical workplace. Research conducted by Bloom suggests that pre-pandemic less than 5% of employees wanted to work remotely on a full-time basis. In the early days of COVID-19, people of all ages wanted to return to the office. That is no longer the case.
Indeed, Robert Half Consulting (HR specialists) made headlines in March by stating that 33% of employees would quit if forced to return to the office.
There is diversity in who wants to continue working remotely versus those who are eager to return to the office. Not surprisingly, parents of young children and remote dwellers with long commutes want to work from home full time; younger singles and empty-nesters are seeking more time in the office.
Employees have been staggering their work hours, interspersing physical activity and household chores with work – and working earlier in the day, and later into the night, to accommodate everything. Studies suggest these employees have been more productive than when working a straight 9 to 5 day.
An older, humorous video showing employee creativity in making it look like they

'

re working when elsewhere, can be seen here. Enjoy!
Some companies are introducing a flexible model, allowing employees to choose when and where they work, provided they get their work done.
The challenge with the mixed mode model: Ensuring equal engagement of all employees. For instance, if one person is connecting remotely to a meeting, he/she can't take part in the sidebars that often occur. Even if companies mandate that when there is even one person connecting from home, everybody must connect from their own laptops, in their own workspace, you know that as soon as the meeting is over, some in-office workers will likely gather afterwards, and continue discussing a couple of points that weren't covered. The at-home employee gets left out.
A concern: Bloom's research shows that over the past 17 years, promotion rates for people who work primarily from home were 50% lower than for those who worked in the office regularly. People working in the office have an opportunity to engage in different ways with people from various parts of the organisation, and to be exposed to more aspects of the company. They usually get more face time with senior executives, too.
Despite the mass exodus from major urban centres that started shortly after cities went into lockdown, the expectation is that many firms will retain much of their current office space – at least in the short term – to accommodate new social distancing requirements. Even in places where this isn't being legislated, many executives recognize that employees are not yet comfortable working in close proximity with people outside their bubble.
What about the other 50% – the industries that don't lend themselves to remote working?
Whether a small firm or large organisation, most have been coping – and coping remarkably well under the circumstances.  For most of them, it will be "business as usual", even though some will be setting up so they can operate at full capacity once more.
What Will be Needed
Greater use of the cloud, and an examination of network capabilities to accommodate a distributed work force that will also be working on premises quite frequently – and may be linking in new stakeholders. With IT personnel potentially working staggered hours, and not always on premises at the same time, it might be a good time to consider having a managed services provider to take on part of the load.
Obviously, improved cyber security protocols and practices – and reminder training – need to be part of the

"

back to working in the office

"

Truly good videoconferencing tools, so that people in the office can watch on a large screen, without being huddled too tightly together. Some firms are also providing at-home workers with larger screens to help better simulate an in-office experience.
Although mask-wearing compliance scanners may no longer be necessary as more people get vaccinated, these devices will be needed for the immediate future. Thermal scanners will, however, likely become standard office equipment.
Hand sanitizing stations and increase cleaning of all office spaces – to a standard much higher than seen pre-COVID. Given the extra cleaning that will be required, some firms are engaging full-time cleaners; others are stocking offices and meeting spaces with sanitizing equipment.
A means of cleaning shared workspaces. Many companies are using cameras and/or occupancy sensors to help determine when space is been used, and needs to be cleaned.
In either scenario, IoT solutions can help people know whether or not a space has been sanitized and is ready for use.
Occupancy sensors, tied to meeting scheduling tools, will also help minimize overlapping meetings and people having to roam the halls to find a meeting area.
Scheduling tools to account for staggered days and work hours. This will be especially important for firms trying to help employees avoid rush-hour public transit times and having to wait to use elevators in peak times when they will have reduced capacity.
Facility maintenance and monitoring 24/7, given the expected lengthening of the workday due to staggered hours. For some firms, this may mean introducing new tech solutions and engaging a managed services provider.
A means of measuring employee productivity that is not based on attendance.
Active efforts to engage employees. Currently, employee engagement is at an all-time low and burnout is high because of back-to-back video calls, and a requirement to work longer hours to actually get the work done. Rebuilding the corporate culture will be important for companies to move forward successfully.
It may seem out of context, but increased emphasis on marketing communications activities to support the sales staff will be needed to help bring business in – which will help with morale and engagement.
Obviously, some of these suggestions are beyond scope of our activities, but we can help you with managed services, network and cybersecurity needs, as well as sensors, scanners and other solutions.
If you'd like to meet with us (virtually for now, but that could be in person very soon) to discuss how we can help your organisation, please feel free to contact us at [email protected] or (416) 429-0796 or 1.877.238.9944 (Toll Free).